Our new STEM sessions are underway!
Our Theme for our STEM this term is SURVIVAL.
We are exploring Survival skills in Forest School activities; Global power, water and our carbon footprint challenges; protection of bees; Birds in Winter and migration and other investigations.
We are exploring different ways for the children to record their findings and having lots of fun in the process, developing our team work skills.
Please click here for the weekly grid of activities for each group.
Week 4: We love WOW moments in STEM!...
Especially when we can get wind turbines to really work or when you make a shelter from the wind, that can fit all 10 Forest schoolers or when you are the quickest to light a fire or you create a puppet show to teach all about bees! WOW!
Week 3:
This week's challenges saw some firsts! The first group to manage to light a fire using flint and steel; and the first group to create a wind turbine that could lift a 100g weight!
Fantastic teams!
Week 2:
It was so exciting to see all the children so engaged and loving learning on a Monday morning! We had some super homeworks, which we will post on here too!
Forest School wasn't so cold, and the 2nd batch of buns didn't burn in our oven. Fire lighting was a little tricky this week.
Photos of other activities this week will be coming soon...
Week 1:
Three of our STEM activities are based outside, where the children are involved with Forest school learning activities.
The children faced the elements and created a great 'base camp' . We really felt we were on a SURVIVAL expedition.
The children learnt to light a fire and maintain a fire. We cooked sausages and baked buns in our own make-shift oven. They tasted pretty good- even the burnt bits!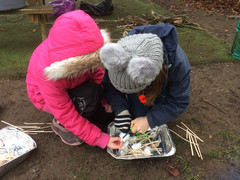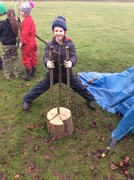 More from week one below...
We will add more photos each week- keep looking!
Otters and Foxes joined forces in Summer 2016 for STEAM.

Please press on the word below to see some of our pictures.