We have a responsibility in schools to highlight positive uses of technology and to explore the role we all play in helping to create a better and safer online community. As educators we can help join with parents, carers, law enforcement, companies, policymakers and the wider community in helping to create a better internet. Get involved play your part!
The internet is always changing, and being able to keep up to date with your children's use of technology can be a challenge, especially if you feel that your children may have better technical skills than you do. However, children and young people still need support and guidance when it comes to managing their lives online and using the internet positively and safely. Below you will find copies of several guides relating to different aspects of the internet. Should you require paper copies please contact the school office, alternatively just click the item you are interested in:
7 questions to ask your child to start a conversation about online safety
Family Agreement Advice - Things to Consider
Supporting Young People Online
WhatsApp Safety - A Guide for Parents
The logos below will allow you access to websites designed with parents in mind, packed full of hints and tips to help you talk to your children about staying safe on line.
Here is a link to the CEOP (Child Exploitation and Online Protection Centre) page where you can report incidents and also get advice and help regarding online safety.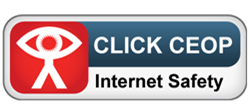 For your information here is a list of popular social media sites that lots of children use.
Popular Social Media Sites used by Children
To access the latest E-Safety policy please click here: E Safety Policy
Within the "Children" tab on the website you will find a page for children to learn about E-Safety. There are links to websites and also games they can play, relating to staying safe on line. To access the page directly click here: Children E-Safety.